External Facades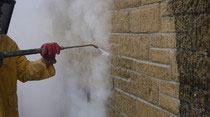 SuperHeat can clean all stone surfaces, historic buildings, new buildings and other facades. We will use our cleaning systems to gently clean without damaging the stone or other surface below the grime.
Vehicles and Boats
All vehicles, boats and caravans can be cleaned. We will remove algae, dirt and other biological growth.
Outdoor Areas
Tarmac, concrete, paving, wooden decking, furniture and fencing are just some of the surfaces we can clean. Please call or email with your enquiry.
Fire Damage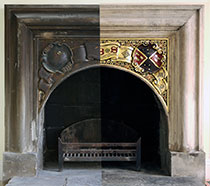 Soot removal and the resoration of the stone or surface is offered by our skilled staff. To the left is the before and after of a fire damaged 18th century fireplace.
Other Services Offered
careful grime removal on historic buildings
removal of graffiti and paint
Outdoor furniture cleaning
Industrial and machinery cleaning
Sign cleaning
Call us
For more information on our services please call Ian Viney.
01308 424 191
07505 268 796
You can also use our contact form.